Gutters and downspouts are essential to the home's drainage system. They are responsible for directing the flow of rainwater from the roof to the appropriate drainage lines. They also play an important role in maintaining the integrity of your home's roof system. Thus, they should not be skipped or overlooked when looking for home inspection services. And when it comes to home inspection Colorado Springs has to offer, you are in the right place. AmPro takes gutters and downspouts very seriously.
Why Inspect Gutters and Downspouts?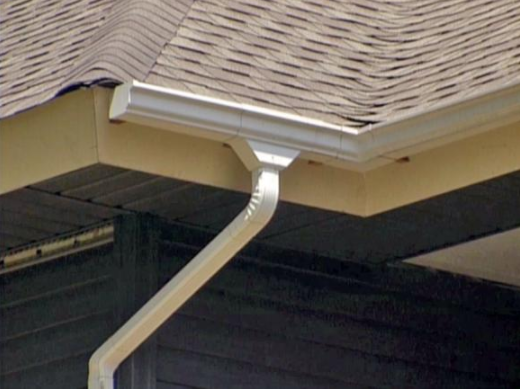 Image Source: DIY Network
In the event of rain, the water will have the tendency to accumulate at the lowest point of the house or towards the soil. Once the water accumulates near the soil, it can seep through the foundation and pose a threat to the structural integrity. This might appear like a minimal source of damage initially but it can add up over time.
Experts in American home inspection must evaluate a number of things during inspection. The first factor to look into is the style of the gutter system. Depending on the gutter style, it can have a negative impact on the slope and direction of the rain water as it pours onto your roof. The K-style and U-style gutters are two of the standard styles available. They help to drain away water from the foundation and keep water from overflowing, too.
The material used on the downspout is also critical. The method of connecting the gutter to the downspout should be examined. The home and roof inspector must ascertain if the two are properly attached. If there are any leaks on the joints, that will eventually cause water to leak out and make its way to the soil. If that is the case, then the gutter and downspout are not doing their job.
Expert roof and home inspectors take the time to assess the quality and type of gutter and downspout system in the home. Without expert eyes, it will be hard to detect if any issues exist at all.
Home Inspection Colorado Springs: Expert Roof Inspection
Image Source: Livin Total
Want to ensure that your gutters and downspouts are in tip top condition before your house goes up in the market? Perhaps, you are a new home buyer and want to make sure that the roof of your favored property is structurally sound before spending your money? Call in one of the best in the home inspector Colorado industry – AmPro Inspections. When it comes to home inspection Colorado Springs, rest assured that our inspectors will provide the needed attention on checking the roof, gutters, and downspouts.
To schedule a roof or home inspection, call 719-648-4098. You may also schedule an appointment here on our website. Please read reviews from our past customers to see what they have to say about our services. We serve the greater Denver area, Colorado Springs, and other surrounding areas.
Get in touch with us by visiting this page.